Henry Phillips: Neither Here Nor There from United Comedy on Vimeo.
BIO
Henry Phillips has been seen and heard performing his twisted songs and stories on 'Comedy Central Presents', ABC's 'Jimmy Kimmel Live', as well as satellite and terrestrial radio nationwide. His critically acclaimed comedy albums earned him mention in Billboard magazine's 'Critic's Choice', as well as acclaim from such notable artists as Moby, who refers to Phillips' music as "disconcertingly funny". In more recent years he has focused more on his acting and filmmaking. His semi-biographical cult comedy film "Punching the Clown" received the Audience award at Slamdance film festival '09, and the sequel is expected to be released in 2016. His YouTube channel, featuring the tutorial cooking series "Henry's Kitchen", has garnered almost 3 million views. Phillips continues to tour comedy and music venues throughout the US and beyond.

NEWS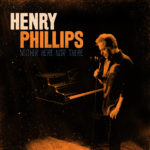 Comedian Henry Phillips' (Punching The Clown) new album, Neither Here Nor There will be available July 22nd, exclusively on Audible Channels, Audible's new unlimited, advertising-free on-demand listening service featuring comedy, news, entertainment, exclusive shows and more. Channels is available as a free benefit to Audible members, and can be purchased as a stand-alone offering for $4.95 a month. The album will become available on all digital stores wherever albums are sold on August 19, 2016. In addition, there will be a video release of the special available on Vimeo, August 15th.
In
Neither Here Nor There,
Phillips performs at the Lyric Theatre in his hometown of Los Angeles, CA. This is a special evening in a refreshingly intimate setting. The performance includes standup, music, and special guests, all tied together with Phillips' own unique brand of humor.

CLICK HERE for 'And Punching the Clown' screening info at SXSW!
LATEST VIDEO
New Henry's Kitchen Halloween Special!